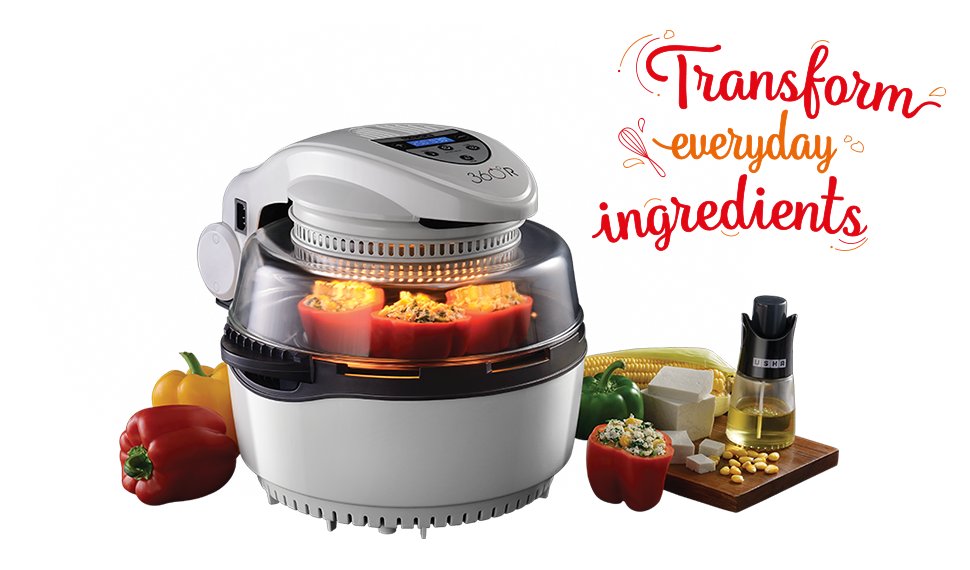 Halogen oven

|

Infiniticook 3515i - 360R
Your promise to eat healthy, made tastier.
The 12-Liter Usha halogen oven is a step ahead of the air-fryer. It uses convection technology to cook food evenly and guarantees 100% oil free cooking without compromising on taste. With 4 advanced rotisserie functions, get health home with this dynamic new oven.
Infiniticook 3515i - 360R
MRP 16580
.00
Convection technology for 360 degree even cooking

100% Oil free cooking - healthy yet tasty food

4 advanced rotisserie functions for perfect browning
Borosilicate see through glass bowl

Arm lock to prevent lid fall off

Smart pause function

8 accessories

Free recipe book

Free Mist spray bottle for minimal oil cooking

CE certified product

Visuals of all 10 applications to be shown

Visuals of all 4 rotisseries to be shown – Rotisserie Grill, Rotisserie Basket, Rotisserie Skewers, Rotisserie Stick

Moulded 16 Amp. plug with 1.5 meter cord
Power : 1300 w

Voltage : 220-240V AC, 50 Hz

Warranty : 2 years
Rotisserie stick

Rotisserie basket

Grill rack

Tongs

Frying pan

Rotisserie grill

Rotisserie skewers

Oil spray bottle
How to use your
Halogen oven