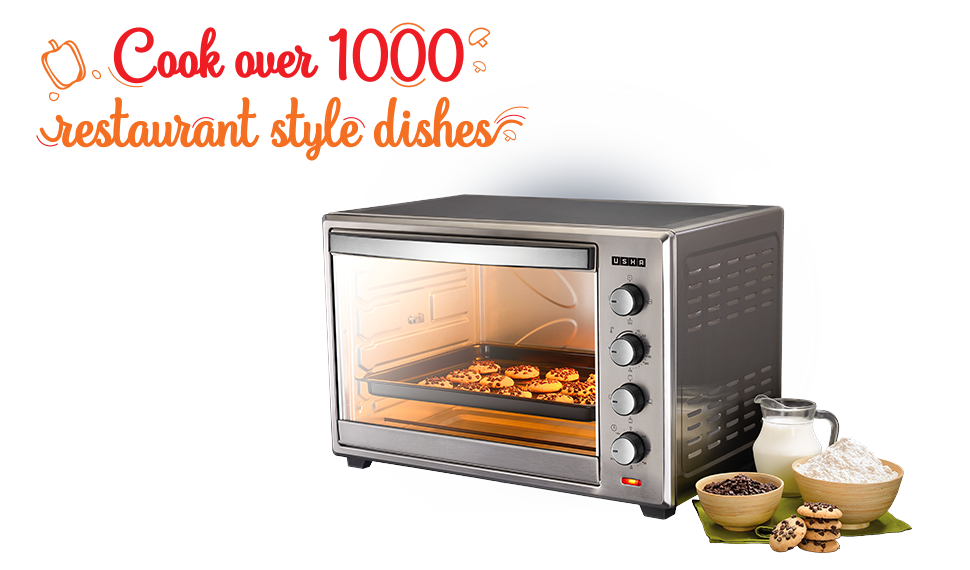 Oven Toaster Griller

|

OTGW 3760RCSS

Convection Technology for 360 degree even cooking

60 Litre large capacity

8 Accessories
Free Home Services
The oven is no longer a bakers-only appliance. It's now a part of every household - no matter the type - and you'll want this one to be part of yours!
This 60L Usha OTG with convection technology gives you 360 degree even cooking so that your kitchen and recipes also evolve with the world's best cooking experience! Get set to own this multi-featured appliance, which, with its range of accessories, lets you express your culinary abilities the best!
OTGW 3760RCSS
MRP 18499
.00
Convection technology for 360 degree even cooking

60L Litre large capacity

8 accessories
Illuminated chamber

Stay on function for longer preparation time

Keep warm function

Rotisserie function for perfect browning|

Optimal temperature cooking for tastier and nutritious food

Top and bottom heating elements

Door with Break-resistant tempered glass

Stainless Steel Body with cool touch handle

Free recipe book with 30 gourmet recipes

8 accessories – Skewers, Rotisserie, Grill rack, Bake tray, Crumb tray, Rotisserie tong, Grill & Bake tong

6 mode options for baking, toasting, grilling and roasting

It employs 4 knobs on control panel, rotisserie & convection function on one separate knob.
Capacity - 60 L

Power - 2200 W

Motorised Rotisserie - Yes

Convection Heating - Yes

Thermostat - Upto 250 deg C.

Warranty - 2 years

Voltage - 230 V AC

Frequency - 50Hz
Skewers

Grill rack

Bake tray

Crumb tray

Rotisserie tong

Grill & Bake tong

Rotisserie

Rotisserie Skewers